IBM TM1
What it can do for your business
IBM Cognos TM1 is an enterprise planning software platform that can transform your entire planning cycle, from target setting and budgeting to reporting, scorecarding, analysis and forecasting. Available as an on-premise or on-cloud solution, and with extensive mobile capabilities, Cognos TM1 enables you to collaborate on plans, budgets and forecasts.
Security and privacy in the cloud
IBM enables companies to scale and adapt quickly to changing business needs without compromising security, privacy or risk levels when using IBM cloud offerings.
IBM Cognos Analytics
One analytics solution for your entire organization. Confidently monitor, explore and share insights from your data.
Integrated solution
for data discovery and reporting
Guided experience
to access data and create dashboards/reports
Consistent web-based experience
on all devices, on or offline
Proven governed platform
for performance and scalability
Bring your data to life
Self-service reporting and dashboarding features help virtually anyone create informative,
engaging visualizations without needing help from IT.
Reporting and visualization features
Contextualized smart search
Intuitive interface helps all users quickly author content
Dashboards can be created using drag and drop on mobile device or desktop
Automatic recommendation of the best visualizations for particular data Templates and styles let you format reports instantly
On-demand menus for access to full capabilities over a clean workspace
Single interface to create ad hoc or pixel perfect reports, frees up IT
Make your data work for you
Working with data should be straightforward and productive not painful.
Expand the sphere of people who can proficiently work the data.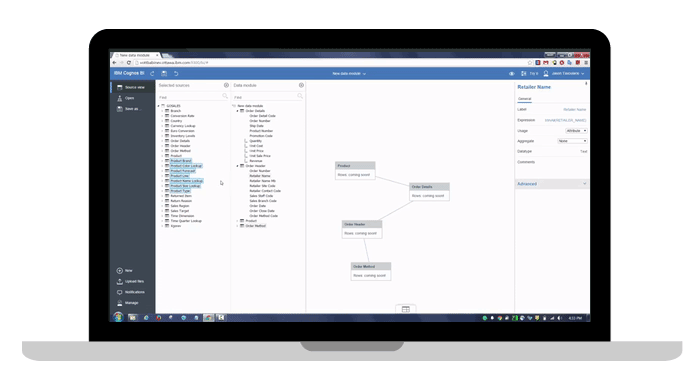 IBM Cognos Analytics: Data Preparation
Data modeling features
A complete web-based experience
Easy upload of personal and external data
Direct reporting from data sources
Effortlessly combine data sources
Automatic data model generation based on keywords
Analytics you can trust for confident action
Confident action comes from access to curated data that helps reduce risk and debate over numbers.
Data integrity features
Data protected with layers of permissions, authentication, and history
Report integrity maintained regardless of range of inputs across business
Controls to protect data whether you're creating one report for many or many are creating one report